Go to 'Pupils' to access Mathletics and other online learning resources.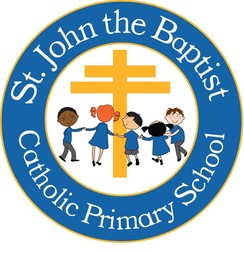 Mission Statement
St John the Baptist Catholic Primary School is rooted in the local Catholic community with which it shares beliefs and values.
Christ is the way, the truth and the life.
Our school is a welcoming Christ-centred community, committed to the development of faith and worship.
Our mission is to provide a loving and stimulating environment, where all are inspired and empowered to achieve their true potential as unique and valued individuals.
Our children will be encouraged to develop an awareness and respect of others as well as themselves, as we all journey through life with Christ.
DESIGNATED STAFF RESONSIBLE FOR CHILD PROTECTION IN SCHOOL
Mrs Susan Mumby (Designated Senior Person), Miss Tina Barry (Deputy Designated Senior Person),
Mrs Carmen Pearce (named Child Protection Governor). Social Care Direct: 0845 8503503.
Ofsted Report Published
Latest School Calendar Events
There are currently no events.
Calendars page(s): School Calendar >>
St John The Baptist Catholic Primary School News
News Page »